Over 12,000 square metres
We are a proactive and independent glass importer. But our number one priority has always been to keep our clients satisfied. We know the qualities of the material and the best manufacturer for every type of glass. Thanks to our large network of suppliers, we can always meet your requirements. Using the just-in-time approach, we supply dozens of clients all over Europe from our 12,000 m2 distribution centre. We will not disappoint you and are happy to support you in any technical, operational and logistical processes.
If you have any questions about toughened and safety glass, contact one of our experienced product specialists. Whether you are looking for transparent or coloured, curved or recessed glass, glass with specialist edge finishing or screens printed with ceramic inks, they know which types of glass are available. Together with you they will work towards a solution to further optimise your production process and end products.
If you want to know more about what Staalglas can do for you, or if you wish to make a no-obligation appointment, e-mail us at info@staalglas.nl and one of our product specialists will contact you directly.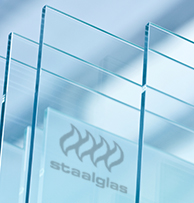 Contact Staalglas for any type of toughened and safety glass