Good preparation is half the work
This is why Staalglas also acts as an advisor for new projects. In addition, Staalglas offers the option of approving the first production on-site at the factory and supporting clients through their required audits.
Standards
We'll make sure that our glass meets your standards and requirements. As a norm, Staalglas always works in compliance with ECE R-43, but we are also familiar with AS-DOT and CCC certification. Next to these, we supply sector-specific standards such as BN-918511, ISO 614 and VHR.
From glass to a complete screen
What makes a screen complete for you? We supply windscreens with assembly parts, rubber profiling or suitable packaging – everything is possible.
A good position for negotiation
As a wholesaler and distributor, we work closely with a large network of international suppliers. Our in-depth technical knowledge and high level of quality requirements always place us in a good position for negotiating and to offer a good cost to quality ratio.
If you want to know more about what Staalglas can do for you, or if you wish to make a no-obligation appointment, e-mail us at info@staalglas.nl and one of our product specialists will contact you directly.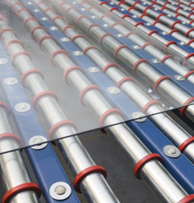 Staalglas works closely with a large network of international suppliers